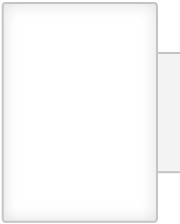 "Fixed our dryer quickly, and saved us hundreds"

Thank you!

Newport New's Va

Janet

"I called A Aron Appliance and he came out within a couple of hours and completed the job within 30 minutes. He was reliable, respectful, CLEAN, and affordable! He did offer me a military discount too! I even rec'd a magnet for my fridge too.... A+++"

SuperPagse Guest 28603

"When my clothes washer died right before I was going out of town, I didn't know who to call. Aaron Appliance Service responded to my call , came out that day and had the parts to get my washer fixed on the spot. They were very reasonable and I felt comfortable with their warranty that is also backed by the Superpages guaranty. They will be my appliance repair company from now on."

SuperPagse Guest 86012

"We were delighted by the the prompt same day service that was provided when our refrigerator went out on a weekend! The technician was very knowledgeable and courteous. We would recommend this company to anyone because they get the job done right the first time with a great warrenty."

SuperPagse Guest 03481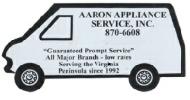 Aaron Appliance

Service Inc

757-870-6608